APPIANI PALACE IN MILANO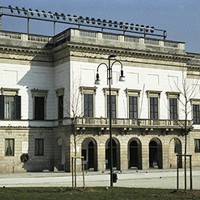 The elegant Appiani palace, dating back to the early nineteenth century, in the Napoleonic era, is part of the Civic Arena Gianni Brera, a great amphitheater built in 1807 on the model of the ancient Roman circus by the neoclassical architect of Milan, Luigi Canonica.

It was originally the stage that housed the French imperial family, and has a plant with a loggia of eight Corinthian pink granite columns, while the park side is two storeys with a five-arcade portico surmounted by a balustrade connected to the lower wall a walled hillside, where there is a decoration that recalls the tree-lined avenues that replaced the ramparts of the ancient Spanish walls around the city.

The architecture of this building on the one hand remembers Imperial Rome, while outside, the typical eighteenth-century villas designed by Pier Marini.
The Salon of Honor, on the first floor of the building, features a monochrome continuous frieze on all four sides of the hall that represents a solemn votive procession with a procession and some games, designed by the painter Andrea Appiani, at that time known like the painter of the cycle of Napoleon's greeting in the royal palace Royal Cariatid Room, today lost.

Contrary to the fashions depicting the most recent military and civil history, the frieze of honor salon celebrates the final triumph of Napoleonic era, with an inspiration evident in the imperial and Roman sculpture.

Written by Paola Montonati.

APPIANI PALACE IN MILANO
Informazioni article by:
REDAZIONE, Pisa